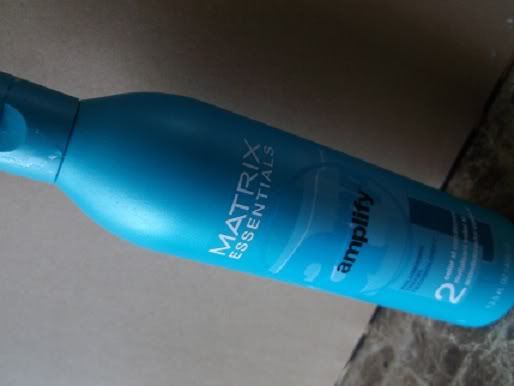 Matrix Amplify Shampoo and Conditioner
This has been my every day shampoo and conditioner for the past 2 months. My hair type is very fine, but I have a lot of it. Its VERY oily, and tends to fall flat. I got mine at Ulta and it was somewhere between 10-12$, which is not a lot for a good quality salon shampoo. You can get this at Ulta, salons, and I have seen it in the professional haircare aisle at Target. A few things I have really loved about this product is:yount and a little bit goes a LONG way. I have short hair so I do not need to use to much anyways, but the lather factor on this baby is awesome.
-It detangles your hair in the shower.
-It rinses out easily. It hasnt left any yucky residue behind in my hair and it literally just rinses out so quickly.
-It doesn't over clean or strip the hair. It has a bit of moisture to it but nothing crazy. It isn't an ultra moisturizing shampoo and conditioner which some people might not like, but it has the perfect amount for someone who has oily hair.
-It doe not have an over powering scent. The scent might be an issue for people who like their hair to smell fruity or flowery, but the scent to this shampoo and conditioner, I describe as "light and clean." It's really fresh.
-Adds a noticeable shine!
-Makes hair feel thicker. **Very noticeably thicker.
-True to its name and does adds volume. I would say it makes it feel more thicker then anything. But it is true to the name.
In my opinion these are VERY compareable to the big sexy hair volume shampoo and conditioner. If you like that brand, you will most likely like this line from Matrix.
The only con I have is one thing with the conditioner. It's a tad liquidy. Not runny. But it's not a very fluffy, thick conditioner. Which again, is good for me. Because those types of conditioner are the cause of my hair falling flat or weighing it down. So while it may be an issue for some, it's not a big deal to me, because it helps.
Ulta Smoothie in the scent "Sugar and Spice."
Ulta smoothies are relative to Philosophy's bath products. They are advertised as "3-in-1" products. You can use it as a shampoo, shower gel, and bubble bath. I have only ever used it as a bath gel and bubble bath. This has been my favorite shower gel to use in the winter. I got it around Christmas, so it is no longer available in the store, it was limited edition for their holiday scents, but you can get them on the Ulta site on CLEARENCE for just 3.99 which is a STEAL. The smoothies usually retail at 16.00 and they are liters. This scent smells so..christmasy! I am terrible at describing scents but it smells somewhat like cinnamon. Or maybe a gingerbread man? I have no idea, but it is terrific and will make your bubble bath smell magical. I have a few of the smoothies now, and they are also great for a shaving gel. Very moisturizing and it has awesome ingredients. The site explains it as "A superboost antioxidant complex of acai, goji berry and mangosteen super fruits."...sweeeeet!
Bare Minerals Purifying Facial Cleanser and Purely Nourishing Moisturizer
My skin type:
-Combination but tends to get really oily in certain spots.
-Acne prone.
-And redness.
I've looked high and low for skin products that do not break out or irritate my skin from Murad, Clinique, Mario Badescu, Neutrogena..and while some didnt give me horrible results. They didnt give me great results. I needed a facial cleanser that was light weight and something to keep acne under control, and this has been working well for me. I have been using it a little over a month. I got the package deal, so the kit with the cleanser and moisturizer is $23 at Ulta and Sephora. The individuals are about 24-26$ alone. They have pumps which to me is most sanitary. They have a light floral scent to them, but it's barely there. The cleanser foams up when you lather into your face. I feel like my skin just looks brighter and healthier after I use this. I have had very minimal break outs since using, and compared to the problems I was having...my skin is tons better. The moisturizer is the BEST moisturizer I personally have ever used. Most moisturizers clog my pores or feel greasy and nasty on my face and this does not. I absolutely love it. They have different cleansers and moisturizers for different skin types which I think is great. I've felt the moisturizer for dry skin and...whoa baby! I recommend this line 100%. Along with the great results..it has great ingredients. It's natural and paraben free. Even if you arent the biggest fan of the make-up which I know is Love/hate with people...give it a go.
Too Faced Metallic Eyeliner in "Black Beauty."
I have no idea if this is discontinued or not. I can't find it at Sephora or Ulta. I orginally got it at Sephora for 18.00 MONTHS ago, and it is hands down my favorite eyeliner ever to put on my waterline. It is long lasting, it doesn't smudge and it doesn't pile up in the corners of your eyes by the end of the day and look like a mess.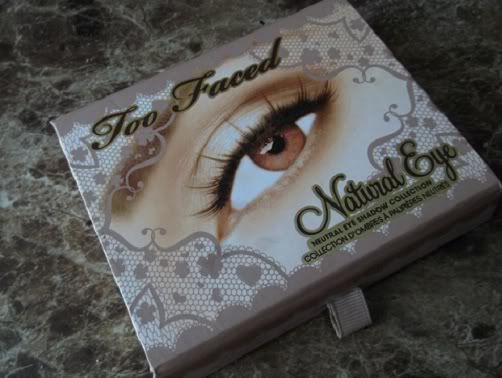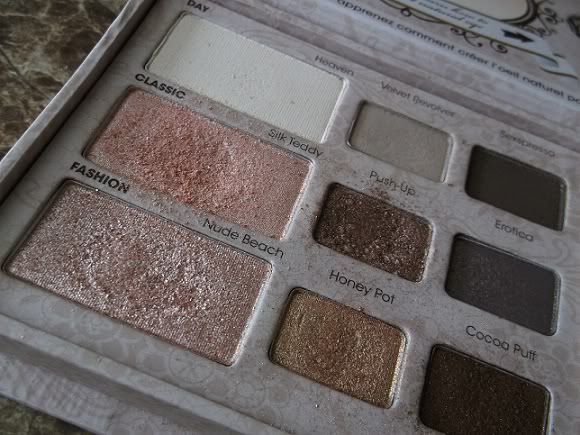 Too Faced Natural Eye Palette
I'm not going to ramble on forever about this palette because within the next couple of days/week I am going to post a "Face of The Day" including 2 of my favorite eye looks from this. But I will say these eyeshadows are gorgeous. They have awesome pigmentation, they are long lasting, don't have a ton of fall out, and with the Too Faced Shadow Insurance primer...they don't move! No creasing or budging what so ever. The longest amount of time I spent wearing a look was 10 hours, and no joking..no exaggerating. It looked the same as when I applied it. So be on the look out for those swatches and faces of the day. :)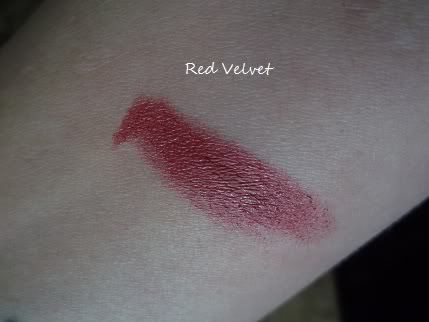 Revlon Lip Butter in "Red Velvet."
This is another one i'm not going to do talk to much about because I want to do a separate review for it and swatch the ones I have to show you how pigmented these really are and I will show you what they each look like on my lips. If you don't like lipgloss or lipstick but want to wear color on your lips..this is perfect. It feels just like a lip balm. It pretty much is a lip balm just a really pigmented one, Lol. You can find these in any drugstore for 6-7$. They are my new obsessions!!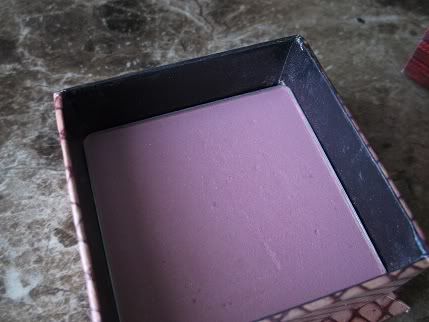 Benefit's "Thrrrob" face/cheek powder
This is a very, very sheer pink. It's light, but I like it. It's not pigmented as Benefit's other boxed blushes, but I have actually really been loving it. It works nicely as a highlight, it looks the best on pale skin, and..well the packaging is super cute ;) Over all I think it looks really pretty on. This retails at 28.00 but I got it for a total steal of a price on black friday. Two for the price of one! It was glorious.